The 1735 Richard Bridge Organ
The Richard Bridge organ of Christ Church Spitalfields is unique. Bridge (died 1758) was one of the leading craftsmen of his day, and his instrument was a musical and visual tour de force, recalling the striking tone colours of the baroque orchestra and complementing the architectural grandeur of Hawksmoor's church which is now recognised as one of the high points of the English baroque. This mighty instrument has been silent since around 1960, unplayable through decay and neglect. Until its restoration in June 2015, there were very few people alive who had heard its sound.
Its particular importance lies in the fact that it is the best-preserved example of Bridge's work, as well as being the largest and most significant of his instruments. The installation of the organ in 1735 completed the interior fittings of Hawksmoor's exceptional building. It was the largest organ in England, and its design encapsulated the tonal character and mechanical refinements of a particular school of London organ-builders.
It is unequivocally an instrument of European importance, and now restored is seen as one of the most significant survivals in this country from the years before 1840. It has a great deal to teach us both about how organs were made and played, and also has the potential to be a valuable liturgical resource today. Hawksmoor's magnificent church has been returned to nearly its original state. In these awe-inspiring surroundings people come to participate in events both spiritual and cultural. The organ is vital to both these aims and the restoration of the 1735 Richard Bridge organ is the crowning glory of a restoration project which lasted around fifty years.
'There are few intact instruments from this era, and none which has more potential for being restored to a condition which will allow players to realise the riches of English organ music from this important segment of our musical heritage… In its restored state, the organ will be the most faithful instrument at our disposal for the performances of the music of Handel and his contemporaries.'
John Scott (1956-2015), former Organist and Director of Music, Saint Thomas Church Fifth Avenue, New York, and before that Organist and Director of Music, St Paul's Cathedral.
A booklet, written by consultant to the restoration, Dr Nicholas Thistlethwaite, documenting the restoration of the organ was published by the Friends of Christ Church Spitalfields in 2015 to celebrate the completion of the organ restoration. With a foreword by Professor Kerry Downes, it tells the story of the organ from its beginnings in 1735, its later alterations, its near-dereliction and subsequent triumphant restoration. The booklet is illustrated with colour photographs throughout. It is available from Christ Church.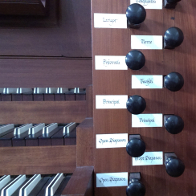 Organ stops
Download a full list of organ stops
Paper labels identifying the drawstops at the console scripted by John Brennan, who also re-gilded the front pipes.
photograph by Joost de Boer 2015
'A historical instrument of undoubted international importance, stature and significance… an undisputed treasure of Handelian times.'
Dr Gerald Gifford, Honorary Keeper of Music, Fitzwilliam Museum, Cambridge