Support us: Our supporters
Christ Church was restored 1976–2004 with the generous support of Simon Sainsbury, The Heritage Lottery Fund, English Heritage and also by charitable trusts, businesses and thousands of individuals from around the world.
The recognition of Christ Church's national and international importance was reflected in the scale of the grant from the Heritage Lottery Fund (£5.9 million) – the largest Lottery grant to a parish church. The initial Heritage Lottery Fund award in 1996 followed the largest ever grant (£435,000) from English Heritage under their own Church Grant scheme. Major support also came from the Monument Trust, one of the Sainsbury Family Charitable Trusts.
Substantial funds are still needed to restore the Richard Bridge organ. Give online.
Thank you. Your support is greatly appreciated.
Book of the floor appeal
The Friends launched an appeal in 2002 to raise funds for the new stone floor at Christ Church. Contributors to the appeal were able to make a personal dedication and this was recorded in a specially commissioned book. The book has been beautifully designed and lettered by Nancy Winters, Fellow of the Society of Scribes & Illuminators.
The book is currently kept in the Church Office and can be viewed there by appointment. Please make arrangements in advance by telephoning 020 7426 5362.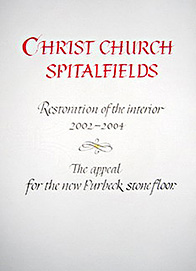 Download the book of the floor appeal