'A call to restore this jewel in the crown of London'
Prof Kerry Downes, Hawksmoor Scholar
The Friends of Christ Church Spitalfields is the charity leading the restoration of Hawksmoor's masterpiece. Starting in 1976, the Friends have raised and spent £10 million on an award-winning restoration.
Please explore this website for the history of the church and its restoration, events organised by the Friends and how you can support the work of the Friends.
'The Spitalfields organ by Bridge, 1735, is of the greatest importance'
Gustav Leonhardt
We are grateful to all those who supported the recent Gala Opening Recital to celebrate the restoration of the 1735 Richard Bridge organ. The sublime playing of John Scott made it a splendid occasion. Proceeds will help to fund the new Travel Bursary for pipe organ builders to encourage, support and develop this specialised craft.
A booklet documenting the restoration has been published and is available via our shop. Click here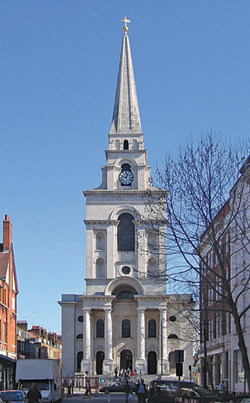 Christ Church Spitalfields venue:
tours and hiring
For information about tours or hiring the church please call Christ Church Spitalfields venue on 020 7377 6793 or visit www.spitalfieldsvenue.org
Christ Church Spitalfields parish: church services
For further information about church services and opening hours for visitors please call 020 7377 2440 or view the congregation website: www.ccspitalfields.org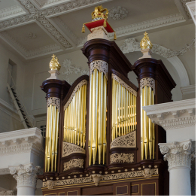 1735 Richard Bridge organ
Supporters of the Friends will be pleased to know that this rare eighteenth-century instrument of international significance has been restored.
More information
main image: View of west front of Christ Church Spitalfields from Brushfield Street.
photograph by CH Woodward
above: The restored organ case with gilded pipes.
photograph by SRB Humphreys